Lucky Grahak Yojana -Make Digital Payment and win Lucky Draw
Narendra Modi has started a new scheme to promote the cashless digital payment after the big act of demonetization, All this is under Digital India programme. Under this government scheme, Government will provide cash as rewards under lucky draw scheme.This scheme has been named as "Lucky Grahak Yojana" and under this yojana, reward prize money goes up to Rs 1 Crore.  Right now the government is targeting Daily 15,000 people for the lucky draw winner prize. The selection of winners under this scheme will be on the basis of Lucky Draw.Also under this scheme, as it is a government-organized scheme thousand of winners are getting rewarded daily.The Lucky Grahak Yojana is a big scheme. Under this scheme, the government is spending Rs 340 Cr for this digital payment lucky draw.
Types of Rewards you can get for Digital Payment
Under Lucky Grahak Yojana there is various kind of prizes you can win on the basis of the lucky draw after you make digital payment. Also with types, there are three categories of prizes such as –
Daily Prize
Weekly Prize
Mega Prize
There are various types of prizes under this Lucky Grahak Yojana. There would be daily prizes, weekly prizes, and Mega prize.
Read More: Narendra Modi Scheme
Daily Prize To Lucky Consumer
Daily 15,000 people would get the prize
Every person would get Rs 1000.
The Prize would be given for 100 days
Weekly Prize
Weekly prizes worth Rs 1 lakh, Rs 10,000 and Rs. 5000 for Consumers. Some details are awaited in this regard. 
Mega Prize
The Mega draw would happen on 14th April, on the day of Ambedkar Jayanti.
3 Mega Prizes would be given
The first prize would be of Rs 1 Crore
Second prize is Rs 50 Lacs
and Third prize is Rs 25 Lacs
Also, there is a Lucky Winners of Each Category
Also, a lucky winner will be selected from all the above three categories which will get prize
There are a fixed number of the winner in each category.
| | |
| --- | --- |
| Mode of Transactions | Daily Winners |
| RuPay Card | 11,900 |
| UPI | 1,500 |
| AEPS | 1,500 |
| USSD *99# | 100 |
Advertisement Banner under Lucky Grahak Yojana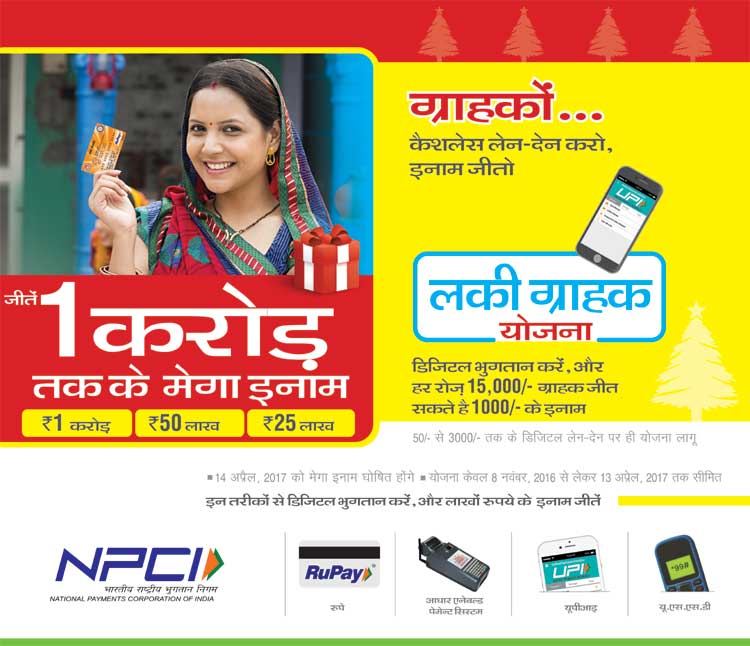 Check if you are Eligible For Lucky Grahak Yojana
These prizes and given category would be given to those consumers who pay using the cashless mode/digital payment.
Note- the prize is for the consumer. It means you have to pay for a service or product.
The payment should be done from any of the following modes.
Unified Payment Interface (UPI) –  A mobile-based app for the digital payment.  Most of the banks have combined the UPI to their existing mobile apps. Some banks have alone UPI apps such as SBI Pay, PNB UPI, Axis Pay, PhonePay.
USSD *99# Banking – You can pay without smartphone with the dial *99#. This is designed for the feature phone users, it will work without smartphone or internet. For payment dial *99# and follow the simple steps.
Adhaar Enabled Payment System (AEPS) – This payment system based on Aadhar identification. There is no use of phone, internet or signature for payment the only Aadhar Number and fingerprint is required. The merchant will use the AEPS with a micro-ATM to get payment.
Rupay Card –  This is the just like Visa and Mastercard. Bank may use the card as debit or credit card.  This payment gateway is designed and development by the NPCI. Jan Dhan Account holders get the card as the debit card.
Only those users who use the phone and pay through the UPI model will be eligible for the lucky draw. The payment through digital wallet who have integrated the UPI itself is not eligible for the scheme such as Paytm, Mobikwik, Freecharge etc.
Check lisy of payment which are elegible or not
Lucky Grahak Yojana eligibility of transaction
Mode
Details
Eligibility
Digital Wallets
Paytm, Freecharge, Phone, Mobiquik
No
UPI Apps
SBI Pay, iMobile, pockets, chiller, PNB UPI,
Yes
UPI in Wallets
Phonepay, Freecharge
Yes
USSD
Available to all mobile banking customers
Yes
AEPS
Transaction Through Micro ATM
Yes
Rupay Card
Jan dhan account holders have this card
Yes
Master, Visa, Maestro
All credit cards have this type of cards
No
Net Banking
No
Time Limits of Transaction
All the digital payment which is done from November 8, 2016, to April 13, 2017, is eligible for the Lucky draw.
This is started from 25 December 2016. The scheme would go on for 100 days.
Limit of Amount for Lucky Draw
In the scheme, the upper limit of transactions is given due to is designed to promote digital payment in lower and middle class.
The digital and card payments between Rs 50/ to Rs 3000/ would be eligible for lucky draw scheme.
 All the transaction between Rs 50/ to Rs 3000/ is eligible for the draw. if you pay between this limit, you have the chance to win the lucky draw.